Who We Are
"I don't rest on past laurels. When I successfully complete an assignment for a client, I always examine ways to improve service. I approach every new opportunity on its own merits. I fully understand in a changing business environment there is no onesizefitsall solution. This approach to servicing accounts is how I have not only managed to survive, but flourish."
When you engage Jackson Communications, you are essentially employing the 20 year skill set of Audraine Jackson and the considerable abilities of her available talent pool.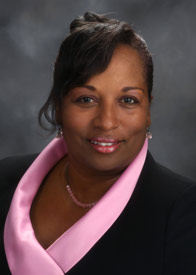 Audraine is an industry award winning marketing communications professional and a visionary thinker who relies on a mixture of research, instincts and logic to obtain measureable results. She is an excellent strategist adept at achieving client results utilizing planning and management skills for communications projects, programs and campaigns. Her background includes graduating from the Grady College of Journalism at the University of Georgia, a program that required an additional acceptance level after general college admission. She spent her early years as a broadcast journalist in national and local markets before pursuing a career in marketing communications. She recently served as a Fellow in the New Media Institute Program (NYC) sponsored by the NBPC and Corporation for Public Broadcasting.
Company successes include high profile issues management for a City of Atlanta council district to minimize the expansion impact of a national retailer on historical communities, gaining national broadcast visibility for a client embroiled in a hostile land takeover, branding a therapeutic healthcare client from inception to gain market share, developing and executing sales promotion campaigns to increase revenues for a fast food franchise group and creating national industry visibility for a real estate development/construction firm. Audraine's unique ability to craft a story led to success in the political arena. Over the years she's acquired a talent of assessing strengths and weaknesses of candidates with an ability to forecast voter trends utilizing data along with prevailing conditions to strategically position a political client for victory.
She is a speaker and conference presenter on communications topics and hosted a one day conference internationally teaching communications professionals about strategic thinking, business writing, public relations, media relations and integrated marketing. She is the recipient of numerous awards and honors.  Some are listed below:
2010 IABC Atlanta Golden Flame Award, Media Campaign
2010 IABC Atlanta Silver Flame Award, Writing Press Release
2010 MARTA "Dump the Pump" grand prize video "Evolution"
2009 IABC Atlanta Silver Flame Award, Integrated Marketing Campaign
2009 IABC Atlanta Bronze Flame Award, Editorial Writing
2009 NBPC New Media Institute Fellow
2009 IABC Leadership Institute Award of Excellence, Student Chapter Management (UGA)
2002 AABJ Award, "50 Year Legacy Campaign", H.J. Russell & Company
2002 "Outstanding Service" Award, NAWIC (National Association of Women in Construction)