"Audraine Jackson Selected as 2016 Honoree for Corporate and Community Service"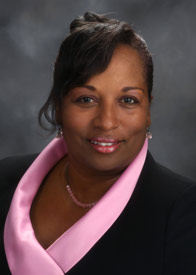 Atlanta, GA, March 2, 2016 –Jackson Communications' Audraine Jackson has been selected to be one of the honorees for the NationalCoalition of 100 Black Women, Inc. – MECCA Chapter's (NCBW-MECCA) 13th annual scholarship fundraiser Saturday, March 5, 2016, at Atlanta City Hall Atrium.  The scholarship event recognizes the accomplishments of African-American women in education, arts and cultural affairs, corporate and community service.  The Honorary Co-Chairs are Atlanta City Council President Ceasar Mitchell and his wife, Dr. Tiffany Mitchell. The Mistresses of Ceremony are Honorable Judge Penny Brown Reynolds and Judge Glenda Hatchett. A portion of the proceeds from this charity event will directly benefit the Little Ladies of MECCA Scholarship Fund, an education and mentoring program designed to empower and educate girls while developing them into future leaders. This year's entertainment is a fashion show coordinated by internationally renowned fashion designer and entrepreneur, Dwight Eubanks (Real Housewives of Atlanta & Purple Door Salon).  The fashion show theme is "A Well Dressed Man, 2016 Spring and Summer Collection".  Models will be wearing collections from local designers. The event will also include a "Meet and Greet" with the designers.
Jackson is receiving the award for corporate and community service for donating countless personal hours as well as professional pro bono work to a variety of causes. In 2002 she founded the September 11th First Responders Appreciation Program honoring firefighters and law enforcement in the SW Atlanta community and the Flowers to Widows program that surprises recently widowed women and men on Valentine's Day with flower gifts the first year after a loss. Last September she honored the memory of Fulton County officer Terence Avery Green killed in the line of duty and on February 14th surprised the widows of officers from South Fulton, DeKalb, East Point and MARTA with a bouquet of roses and candy. "I am humbled to receive this honor and give all credit to my mother, the late Victoria Travis Jackson who instilled a strong sense of community service in me at very young age", said Jackson. "She taught me a life doesn't have true meaning unless it positively impacts others."
Audraine Jackson founded Jackson Communications, a marketing communications business more than twenty years ago.  She is often referred to as the TV fictional character "Olivia Pope" for her ability to solve a problem for clients. A native Atlantan, she grew up as the child of an entrepreneur father and a civil rights activist mother. She entered the University of Georgia a year early graduating in only three years with much recognition earning awards, media and leadership experience. Her degree is from the highly ranked Grady College of Journalism, a school that required a second layer of acceptance after enrolling. She spent her early years as a broadcast journalist in national and local markets before pursuing a career in marketing communications. She is an industry award winning marketing communications professional and a visionary thinker who relies on a mixture of research, instincts and logic to obtain measureable results. She is also an excellent strategist adept at achieving client results utilizing planning and management skills for communications projects, programs and campaigns.
Audraine's unique ability to craft a compelling story led to success in the political arena. Over the years she's acquired a talent for assessing strengths and weaknesses of candidates with an ability to forecast voter trends utilizing data along with prevailing conditions to strategically position a political client for victory. She is a speaker and conference presenter on communications topics and hosted a one day conference internationally teaching communications professionals about strategic thinking, business writing, public relations, media relations and integrated marketing. She has served on various boards in leadership roles including the local and regional board of the International Association of Business Communicators (IABC). Audraine is the recipient of several awards and honors and was recently featured in the Washington Post for her opinions on the Georgia primary election in a print/digital story titled "Audraine's Choice". For more information, go to www.jacksoncomatl.com .